email me
already ...
NOTE: The comments feature is not working at the moment ...
May 17, 2011
"I think we got that thing cured"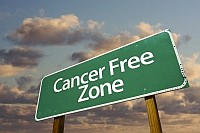 Sorry for the long delay in any updates. I've been trying to avoid retelling the story because unless it's in a therapeutic setting it just bothers me. But today I got the news that everyone who has gone through what me and my family and my friends have been through wants to hear and I wanted to share it with anyone interested. Listen to it as I heard it:
Dr Guerry is my ENT, the guy who suspected cancer and who rushed through my biopsy after botching same twice due to sampling errors. He is a genial man and a good Dr and I appreciate his thoughtfulness and diligence. I emailed him back and let him know I'd follow up with the blood work to follow the thyroid (possibly damaged due to rads and chemo) when the champagne has left my system.
How do I feel? Like I just finished a long book. I feel like everything that has been on hold can continue now in the sort of normal way we all go about our business when we know we've just ducked a low bridge or bullet.
I am ever so grateful for all the thoughts and prayers and jokes and love through this trip. I am different in many ways but also the same. My life is qualitatively and quantitatively better than it was even though the unfortunate scars from treatment will likely be with me until the end of my days. I'll take the trade.
I can now start a new book and enjoy the details with a fresh perspective on the quality of things and a passion for each and every breath. It sounds like hyperbole, but I can assure you it is not.
Best,
Michael
November 06, 2010
Swallowing, you complete me
It was roughly a year ago when I first got scared I had cancer. My first of many breakdowns happened at Sonoma State when I was rushing to a meeting with Dr Madathil but instead found myself in the office of Stephanie, the department super admin and every counseling graduate student's mom.
I walked into her office and she took one look at me and said, "What's wrong?" I cried immediately and she took me in her arms. It was the beginning of my journey.
12 months, many breakdowns, and a river of tears later I again found myself in Stephanie's office with important news. This time we cried for happy.
I can swallow. It hurts a lot, but I can swallow with gusto. Tonight I had chocolate mousse Claire picked up at WF. It was nice. My first "meal" since March was three bites of mashed potatoes last Thursday.
Dr. Deepak Gurushanthaiah, a.k.a. Dr G, a.k.a. the Dude, the great surgeon who did such a nice job on what is referred to as the "gross disease" - the only evidence that I had cancer was in those 7 lymph nodes he removed in January - met me again in the ambulatory OR room in Oakland Kaiser to restore the opening to my esophagus. According to him I had no lumen (the open area of the esophagus). He said he saw that the tissue had scarred over due to radiation and chemotherapy damage. The tissue had attached to the back of my vocal chord box. He said he "tore it open" and that's certainly how it feels.
Of note was the energy in the OR. Assisting was Dr Boyd, a.k.a. Dr Smiley, who also assisted in the January surgery. The best description of the energy was silly, in particular Dr G was silly.
When you enter the hospital there are several identity checks that the staff do to ensure the patient and procedure are proper. This includes asking the same questions (name, DOB, type of procedure, etc.) in the OR. Dr G made it into theater.
He had the team gather around me and said, "We are gathered here today for who?" and he looks at me with huge eyes and I respond my name and the he says "and he is how old ..." and so on. It was, by far, the best Dr and hospital related experience I've ever had from intake to discharge. Truly an amazing day.
I'm taking appointments for breakfast, lunch, and dinner. Please let me know when and where you are available and we'll meet up to toast our friendship and encourage my esophagus to relent on its stricture producing ability.
This experience has given me a perspective on eating in general. I was never in danger of starvation because I had the g tube, but I was starving for the experience of the process of eating. I watched people eat and realized that eating was far more than food for the body. It was also food for the mind as well as the spirit. The process of eating fuels imagination and encourages human connection, binding us together, in my experience, like no other ritual.
This Thanksgiving will be, for me, a true blessing not because I can eat, but because I can eat with my family and friends in a manner befitting our kind. For that I am immensely grateful.
October 11, 2010
Tháinig mé slán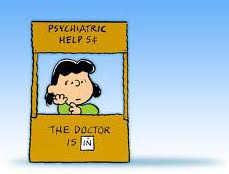 This is a long time in coming and I'm sorry for the absence. Thanks for the reminders to keep the interested informed.
I've been very busy. Taxes, SSDI, housework, the band (played our first bar gig in San Francisco on the 10th), and my internship have all taken turns day-to-day to grab my time and attention. I am living and very happy with being able to say that. The recovery from treatment is still slow going but I figure I am more than 80% back. I do everything I did before and have added cycling a couple times a week to the routine. Every day I feel stronger and happier.
I do, however, have a side effect from the treatment that is a bit of a hassle but nothing I can't deal with. My esophagus is completely closed. I cannot swallow even my own spit nor can I burp. While a barium swallow in August confirmed the closure, it also confirmed that the swallowing structures are intact and working perfectly. That is very good news.
I have a date with Dr G (same Dr who did my surgery in January) for an esophageal dilation. It is considered major surgery and I'll be under general anesthesia. Dr G figures it may not work the first time and it may need to be repeated a few times before they decide it wont open any more. He also figures that a stricture the likes of mine is a poor prognostic indicator for returning to normal eating - it is likely I will never again be able to swallow solid food adding, "I think you'll have that coffee, but probably not the steak." Being alive is the most important aspect of all of this. If I have to choke down smoothies the rest of my life, at least I'll have the rest of my life to learn to enjoy it. As the Irish might say 'tháinig mé slán' which in English means 'I came safely through'.
In the back of my mind is the question of a tumor as the blocking agent. Dr G says that's unlikely because of my awesome PET/CT scan in June, but added he wont know for sure until he gets in there and looks around and takes some biopsies. Fingers crossed!
In the meantime I have worked for the last month to open an SOS Counseling Services (my Santa Rosa based internship) office in Petaluma. I am happy to report we have an office! It is at 405 East D Street in the 'historic' Burdell Building (photo to come). I am busily getting furniture together and business cards and telephone and other stuff. I will be working with my two colleagues and good friends Noah and Lisa, supervised by the very amazing Dr Mark Doolittle, and together we'll start seeing clients by Nov 1. We're very excited to be bringing sliding-scale counseling to the very needy in Petaluma.
The kids are doing very well, each experiencing growing pains of different types. Claire is still amazing, working way too hard yet still can laugh and smile. We are looking forward to our long overdue return to Ireland in the summer and all the hugs and kisses that await.
Thanks for the continued thoughts and prayers for me and my family.
Best,
Micheál
PS - If you're around on the 16th The Beets play the Petaluma Farmer's Market (in Walnut Park, 4th and Petaluma Blvd) from 2pm to 5pm. It is our last scheduled gig this year.
June 30, 2010
No evidence of disease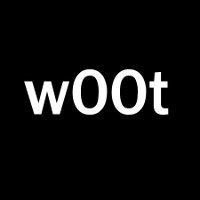 I toyed around with toying around with anyone who is interested in this news but decided that I am too grateful for all the amazing people in my life who have gone out of their way to tell and show me they care to mess around like that.
Dr "Hee Hee" Lee, Doc Nuke 'Em, the radiation oncologist called and said of Monday's PET/CT scan "everything looks fine, there's no abnormal uptake anywhere, see you on your next scheduled visit". In other words there is no evidence of disease. It looks like they got it all.
I just got off the phone with #1 son and he said "That makes it official, right? You're a cancer survivor!" I guess so.
I am overwhelmed. I don't really know how to feel. It seems like I've been without good news for such a long time that I can hardly believe it.
Now it will be a series of PET/CT scans as part of follow up for a few years until the 5-year mark when they claim you are a "long term survivor" which doesn't say much about statistics. But, this is definitely good news and I am very happy to be able to share it with whoever wants to know.
Meaning of word w00t from Wikipedia:
The term w00t is a slang interjection used to express happiness or excitement, usually over the Internet. The expression is most popular on forums, USENET posts, multiplayer computer games (especially first person shooters), IRC chats, and instant messages, though use on the World Wide Web is by no means uncommon.
June 21, 2010
Moving forward
Things are moving forward here despite latent side effects from treatments (numb digits and hearing loss). I am back a group supervision even though I do not have clients (yet!). I am really happy to be getting back into the groove.
Speaking of which, many of you responded when we opened our SOS (Support our Students) non-profit psychotherapy office in Santa Rosa. Now that I am just about ready to head back to work I am excited to announce that we are moving forward with trying to open an office in Petaluma where I will continue my internship.
SOS (www.soscounseling.org) is a 501(c)(3) non-profit agency which began in 1991 and has developed into a highly awarded collaboration with the Sonoma State Counseling Department and its graduate training clinic, Santa Rosa Rotary, Santa Rosa and Sonoma County Schools, local foundations, and many other community supporters.
Our mission is to help students and their families find personal, academic, and social success. We provide free counseling services to schools and a low fee/sliding scale to the community.
SOS Counseling Services are available to people of all ages - adults, couples, families, children, adolescents, and groups. Our service provides Spanish and ASL counseling.
We are looking for funding, office space, and, eventually, furniture. We are hoping to find donated space in an existing office that the lessee or owner would allow us to occupy as a tax write off. We need one office approximately 200 sq. ft., but would love that plus a larger room for families and groups. We'll consider anything to get our services to the very needy in Petaluma.
If you have contacts in Sonoma County who might be interested in supporting or wish to donate to our push to provide free and sliding scale mental health services to south Sonoma County, please drop me an email (michael@soscounseling.org) or call me on 707 799 9500.
Best,
Michael Morris, MFT Intern
June 11, 2010
still corner turning
I'm feeling pretty good these days, more energy, and stamina. I still tire easily but this week I have been planting veggies in the garden, playing tennis with Finghin (I tire in 15 minutes), playing music (I return to band practice this Sunday!), attending group supervision at the clinic (no clients yet), housework, and finishing up an online class to make the MA official.
As a result of my my growing availability around here, Claire has been forced to focus her attention more on her job. It's a good thing I guess, putting the pressure on me to step up.
I have a PET/CT scan on the 28th that will determine if they got it all, so it's my first major milestone, post treatment (fingers crossed!).
I still have problems with my throat. talking for even a short time is difficult, painful, and tiring, so I'm still not too good for phone calls. Swallowing is still a problem as lack of moisture combined with thick, rubbery mucus make everything difficult, sometimes very painful. It feels like I've plateaued at this place this week, with no real improvement.
I have less mucus, and that's good, but it's still a problem.
I hope everyone is doing great. I am trying to decide what team to support for the World Cup. Cheering for the US feels too nationalistic and cheering for Cameroon too chic. I've decided to support Uruguay because it's probably the most interesting name for a country and comes from an Indian term meaning "river of the painted birds" which sounds nice.
Best,
Mick
May 22, 2010
Turning the corner
Posted by Mick
I was IM-ing with Dr Pat, Lizard Man, the other day and frankly admitted that I felt like I was trending toward the positive. I was a little shocked at my admission because I have become accustomed to the same old line "can't talk, feel like shit". Well the "can't talk" bit is still there, but the "feel like shit" is now fleeting. There are days I feel more like gum on the sidewalk or a cigarette butt, which is far better than feeling like shit IMHO.
I am feeling even better today, like I have turned a corner. The treatment for what I had (head and neck cancer, occult tumor) is so brutal, maybe the worst treatment say my Drs, that recovery is often very slow, painful, and depressing. It has been all that for me, but today I feel pretty good.
Yesterday I met with the radiation Dr and he wanted to look down my throat with his scope which is really not very nice but I had to oblige him. He was looking for a few things: general condition of the mucosa, quality of the secretions, amount and quality of sores, constriction, and lastly but not least-ly any evidence of disease, also known as recurrence.
He couldn't quite get it down far enough to see much other than secretions, so he gave up but added, rather nonchalantly I would add, "well, you're not going to have a recurrence anyway".
"What?" I managed. It was a shock to hear that in that moment. The utterance was so unexpected, yet as the words and meaning settled into my being, I was relieved - an odd feeling these days.
He swiftly added the common caveat, "you never really know about these things" but then said again, with confidence and certainty, "you're not going to have a recurrence". I think time stopped for a few moments as that sunk in. Oh, yeah, this could come back!
Extrapolating the data, there is about a 20% recurrence rate for head and neck cancer so for him to say that with so much confidence, I don't know, maybe gave me confidence? Turning it around, it means there is an 80% chance I will not have a recurrence and those are pretty good odds. So I continue to trend toward the positive.
The Dodgers in first doesn't hurt either.
Some thank yous:
There are scores of people to thank with all earnestness and humility. From Massachusetts to West Cork to London to Hong Kong to Petaluma my life has been filled with the most loving thoughts for my well being. While being the sort of non-believing kind, I nonetheless feel blessed far beyond what I deserve and incapable of communicating what it means to me to have so many care so much. All of you have touched me deeply, in the best place in my heart and I do not rightly know how to thank you all for your continued wishes.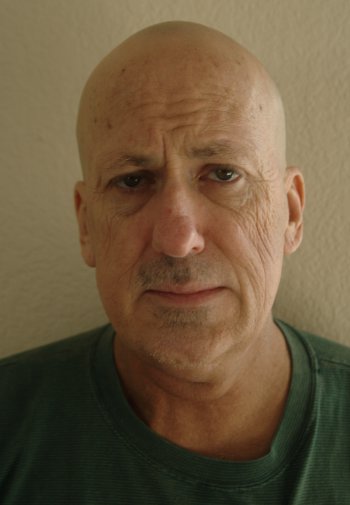 Thank you so very much to (in no particular order) Liam "a card a week" Casey, Joe Park, Eleanor Welham, Paul Gribben (justwrite.us London), Declan, Suzy and all the McCarthy's, Tess my wonderful mother-in-law, Noah the gift that keeps on giving, Mark "activate the Omega 13" Doolittle, Diana Drips, PJ the eternal light of lights, Esin, Tricia Burt, Susan Hazy, Mike V, Mike D, Kaleena, Scott H, Chris Arteberry, Heidi F, Claire's staff from the Americas, Tony Mac (how's the craic?), cousin Julie, Amber, Angela Garvin, Tom and Claudine merci boucoup!, Julia and Martin, the Thursday morning supervision group Lisa and Judy (first with flowers!) and Myra, Drs Hill and Shulman, my brother Ron and Sue, my sister Sherry Fisher and all the Ohio gang, Brain and Paula, Kevin and Zoe, the amazing Holly Hamm, Betty and Bette, Nina and Brian, my brother Dr Pat Lizard Man and Brenda, Mom, Dr Low at Capella University, my brother Yrag "I drove from Hollister to see you for 2 hours and it was worth it because I beat you at cribbage" and Patty, Candy from Gualala and her dog, my brother Bob and Colleen, Joel and Courtney, Rose Kruger, Meaghan, Dona Shine, my best buddy Jeanine and all the Beets, Mary Alice and Maribeth, Nathanial and Jeanette, Stephanie and Eric, Allison, Finghín and Hannah, Dean Tyler Morris the brilliant one, chef Caroline, Maayan, Shugri, Bobbie, Jody and Phil, SOS Willits and SOS Santa Rosa, Diana Harris, Tamara Lemesh, Michelle, Marisa, Lori, Martine Lappe, Patrick and Michael, The Freemans, Rachel and Adam, Adriel, the much loved and missed Kelly McCarthy, cousins Andy and Becky, Carolynn, my sweetheart niece Donna (hang in there kid) and Chad, Heidi and Nick and Gabby, Mark and Holly, John Downs, Jude, Karen and Randy, Robo, the Hopes, Linda Martel (I hope you feel better soon), the beautiful Lori Annoreno, Paul and Linda Conneally, the talented Robin E, my 510A buds, Mary and Vanessa ...
UPDATED: I cannot forget the people at the Cancer Survivors network, who help my virtual hand through all this. Thanks to you all.
I know there are more and please don't be offended if I left you off because you are in my heart if not in my chemo brain.
It's not like I'm forgetting the #1 person. Claire Maria McCarthy has been stalwart and unconditional in her care of me. This goes far beyond what marriage means in my book. Her tolerance is mighty, her skill unparalleled, her strength awesome, and her love bottomless. I love her dearly and look forward to rebuilding our life together.
UPDATE: Claire threw out her back. I'm trying to do more, but am failing. Her back is sore and she's doing Advil and bed rest and knitting.
May 16, 2010
Checklist Revised
Posted by Claire
Many of you have asked for an update on the checklist... anything off the list? how is the list going? any progress on the list? So I thought it a good time to update. Overall, improvement can be shown, but moving at a snail's pace.

Here is the original list with updates posted in parenthesis.
- high blood pressure (LOWER)
- thrush (BETTER)
- high heart rate (NO)
- weight loss (NO, gained back 3 lbs)
- dehydration (NO)
- peeling skin (neck) (NO - looks like a great farmer's tan)
- dry skin (body) (YES, BUT BETTER)
- smelly mouth (BETTER)
- interrupted sleep (YES, Definitely)
- fatigue (YES)
- mouth sores ("like a million paper cuts") (YES, but improved)
- afraid to swallow (YES)
- pain in swallowing (YES)
- radiation burn (NO, all healed)
- acid reflux (YES)
- loss of voice (hard to talk) (BETTER)
- gag reflex (SOMETIMES)
- vomiting (BETTER)
- depression (YES)
- anxiety (BETTER)
- hair loss (YES, see previous post by Mick)
- mucus, mucus, mucus (YES, but changing)
- lack of taste buds (BETTER)
- general malaise (BETTER)
Equipment/Medications/Aids:
- feeding tube (YES, exclusively)
- suction machine (NO - IT'S GONE)
- ativan (SOMETIMES)
- SSD cream (NO, radiation burn healed)
- diflucan (Just finished another course)
- pain meds as needed (Advil)
May 15, 2010
Sweet Finghin
I have always said that Michael and I have amazing children, and we do. I know it. Here are some sweet Finghinisms:
********
Finghin often asks me to show how many days on my hands until... his birthday, Christmas, next playdate, etc. The other day he asked me to show how many days until Michael would be feeling better.
********
Another other day, Michael was going through one of his oft daily coughing/hacking episodes seated on the edge of the bath. Finghin came to him, placed his hand on Michael's bald head and said that he had to take his medicine like the doctor says and then he will feel better.
Yes. I cried too.

Dancing
Posted by Claire
Hannah and I have been know to throw on some dance music every so often and rock out/work out around the house. Favorites include electronic/house dance tracks like Leftfield and Faithless with the old reliable being rocking out to Muse. Today was one of those days. We had Afrocelt playing, pumping up beat, getting into it when Michael came downstairs to fill up his water jug, and..... he joined in!!!! It was very cool, some grapevines, jamming, step, squat, punch, YAY! He did great, it was fun, we laughed, we got the blood flowing....and then he had to go lay down!
Hannah says we should do it every day.
I agree.
May 09, 2010
9 May - Happy Mother's Day
To all the moms out there, thanks for being our moms. You hold us when we cry and make our lunch and cry for no reason other than we brought you a flower.
Special thanks to mom Claire for her unwavering, vigilant mom-ness taking care of 3 kids (if you count me), Grandma Teresa, and Grandma Mickey.
I say that especially for Claire because these days I am frustrated and grumpy and she takes the brunt of it. The ENT Dr last Thursday told me it's likely what's causing the sores in my mouth is fungus and I need more meds to take that away. Ugh. The sores are not super bad, but they are always with me and tend to peak when I rinse which is about 1000 times a day. My throat is dry and I feel like I'm constantly gagging. Fun.
I do feel some positive movement - I have a bit more energy - but
it's not enough. I noticed I have a new, chemo related patch of baldness, right at the back which has not yet grown back. If I let the hair around it go I look kind of mangy so I have decided, for the meantime, to go Kojack. The feeling is odd, the look is awful, but it's better than the mangy look.
I look old. I am skinny (158), saggy, short, and useless. If it were not for school I would feel completely without meaning, seriously. I know I mean something to someone, but I mean personally, to myself. I don't do anything, can't help anyone, can barely talk, and sit around miserable pretty much all day. If the sores would go away that would be huge. Followed by being able to swallow. Then at least I'd feel somewhat normal. If I didn't have mlb.com as a constant companion I'd feel very alone.
That last sentence made me think of Claire and Noah. It is because of them I do not feel alone. Claire is always ready to hold me when I feel like I cannot take it any longer. The times this has happened might occur just after I've vented my inner process at her, yet she has the understanding and grace to hold me. She is a wonder.
Noah spends silent hours here during the week when he is not working, sitting with me and my kids, playing or just being. His influence is calming and full of care. He is ready to perform any task, no matter how menial if it will help Claire with her day. He is solid gold. I am so grateful to both of them.
I graduate in 3 weeks so I have a lot of work to do. I miss not being in the world and am looking forward to rejoining it, and seeing all my friends again soon.
Michael
May 02, 2010
May 2nd - Q&A
I decided to feature a Q&A this week as I gathered up comments and questions from emails, phone calls, and in person conversations. I figured if one person has a question, it may be on someone else's mind too.
Q. Is Michael driving?
A. No.
Q. Is Michael able to take any food by mouth yet?
A. No, all feedings are through the PEG tube.
Q. When will the PEG tube come out?
A. No date has been set. It will be removed once Michael can take in sufficient calories by mouth to sustain his health.
Q. Is Michael catching up on his sleep?
A. No. Michael still does not sleep through the night, is very fatigued, and is a spontaneous napper.
Q. I wanted to invite Michael to an event this week, is he up for that?
A. No.
Q. Is Michael on line? Is he answering emails?
A. Michael is on line as he is participating in an on-line class at Capella University in order to graduate. He also checks out baseball and other sports on line, but generally is not returning emails at this time.
Q. Is Michael up for visits?
A. Depends on the day, please check in with me if you would like to visit.
Q. Will Michael take my phone call?
A. Probably not yet.
Q. How is Michael's speech?
A. Michael's voice continues to get stronger and he no longer talks in whispers, but mucus continues to interrupt conversations.
Q. Is Michael in constant pain?
A. No. Michael has episodic pain events, most of which do not last very long, but can be very intense.
Q. How is Michael's mood?
A. Michael wants this to be over so badly. He is depressed, frustrated, tired, weepy, and emotional, but has moments where a ray of hope comes through and he smiles.
Q. Is Michael bed bound or can he get up and walk?
A. Michael is not confined to bed. He can get up and walk around and does so several times a day.
Q. Does Michael go outside for walks?
A. Michael needs to be very careful with sun exposure due to the radiation, so at this time chooses to do his walking indoors.
Q. Has Michael gained any weight?
A. Yes!!! He has gained back about 3 pounds and is now at 160 pounds.
Q. What does the formula taste like?
A. Michael administers the formula through his feeding tube, so it has no taste that he can register unless he vomits and the he says it tastes like sour milk.
Q. What can I do to help?
A. Keep up the good thoughts and vibes. It does help. I will, and do reach out when I need something.
Q. What is it like without Grandma there?
A. We all miss her very much. The kids continue to sleep in "Grandma's room". But we are glad that she arrived home safely and was greeted with open arms by her other grandchildren (get well soon Katie).
Q. How are the kids coping with Michael's illness?
A. In general they are coping well. We talk with them often, get them to talk about how they feel, and make sure they know they are loved and supported. Finghín will sometimes offer Michael something, like a glass of water, as a way to help. It's very sweet. Hannah is a bit reserved but hugs Michael daily.
Q. What are you doing to take care of yourself?
A. Nothing! Maybe in September :)
Q. Can Michael help in any way around the house?
A. Yes, he can and he does. Today he did some laundry, folded clothes, tidied up the kitchen... I am so grateful!
Q. When does Michael graduate?
A. May 29th.
Q. What do you have on the needles at the moment?
A. Knitting a very cute girl's dress.
Q. Are you still working from home?
A. Yes, with occasional trips to the offices in Santa Rosa and Santa Clara. I am so grateful to everyone at Agilent for their amazingly wonderful understanding and support. My home office is all set up. I am pretty much on the phone all day in meetings (hence the busy signal if you try to call), and am keeping up with all of my work commitments.
Q. What else?
A. Happy Birthday to dear Tyler. We love you much. Gary, thanks for making the trip up to see us. We love the BIG t-shirts and it was fantastic to see you on Saturday. Michael is demanding a rematch!
April 25, 2010
Week 3 - Post Treatment
When is this supposed to start getting better? Not a whole lot of change from last week. Michael continues to have moments where he feels a little better, has a little more energy, but then come those other moments when it seems like nothing has changed at all, or may even feel worse. This I guess is what recovery looks like.
Feedings continue to go well and Michael's weight has definitely stabilized. With 2,100 calories per day and very little activity, you might think he would be gaining some weight back, but it looks like he needs pretty much all of those calories funneled towards healing.
Mouth/throat sores, mucus, and fatigue still dominate the symptom list. Michael thinks that the mucus may be a little less, but as a result some of the sores are not coated or protected as well by the mucus and they hurt, really badly, a lot, often. Swish, gargle, spit, groan, swish, gargle, spit, groan, repeat again and again. Treatment ended 25 days ago today, how much longer is it going to take to get some relief?
Yet, despite all of this, Micheal continues to keep up with his course work so he can graduate next month. Michael appreciates his teachers for their support, encouragement and understanding. It is a good outlet for Michael, something that is of keen interest, a positive distraction with an end goal. AND, it IS baseball season after all!
Grandma Teresa enters her last week with us and it is making us all very sad. She has recently been promoted to Chief Cheerleader since no matter how bad Michael is feeling, she is always there with a cheer, a word of encouragement, a compliment, a fist pump: "Mike, you are looking good today", Mike, it is good to see you downstairs", Mike, any day now it will be better". She is amazing, amazing, amazing.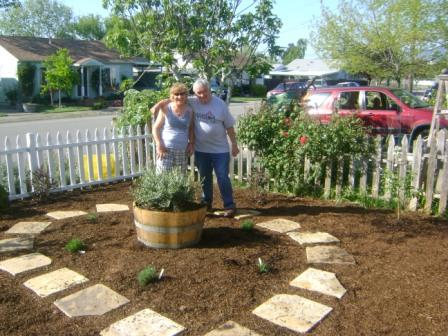 April 19, 2010
Week 2 - Post Treatment
Today, Michael had a follow up appointment with Dr. Lee at RPCC. Overall, the doc was pleased with Michael's progress on recovery. His weight remains stable, his blood pressure is improved, his external skin burn is much healed, no signs of thrush. This is all good.
"Really?" Michael asked as he is having a hard time feeling this goodness. For him, his pain is an annoyingly manageable 2-3 on a scale of 1-10, with an occasional 10+ for some pesky tongue sore. His fatigue is constant, as is the presence of the mucus. However, he did say this morning that he thinks he is feeling a little better. Yay!
So, we have another follow up appointment in two weeks time, when we hope to see more signs of improvement.
On other news: Hannah and Finghin are doing well; Grandma enjoyed her weekend away in Vallejo with Caroline and Liam; the front garden continues its amazing transformation; looks like I have to admit to having a head cold and not allergies - yuck!
Recent thank you's: Kimberly for the driving; Angela for an amazing caregiver night out to see MUSE - Yay!; Declan, just because; Jim C. for being Jim and being there for us; Tamara, Michelle, Mary-Alice and Maribeth for continuing to hold and support our children at school. I know I am missing many as my head is stuffy and tired and it hurts a little.
Thank you all for your continuing calls, cards, thoughts, and emails. As always we feel so grateful, supported, loved, and nurtured.
April 11, 2010
Week 1 - Post Treatment
It has been a difficult first week post treatment. Despairing, painful, hard.
As the primary care giver for Michael, I recognize my limitations. This week has brought those limitations into sharp relief. I have felt so helpless at times in caring for Michael as there is really nothing I can do to speed up recovery so that he can feel better. I can be there as a shoulder to cry on, someone who can clean his wound, someone who can calculate his calories, someone who can administer his medications, but yet, I still feel it is not enough when I see his pain and despair.
It is also a balancing act of knowing when to provide help versus asking is there anything you need. At times Michael does not know what he needs and I haven't a clue what to do either. It is an impossible situation and the endless dilemma of the care giver.
I hope this week is better.
April 09, 2010
Baseline for Recovery
Since treatment has ended, the focus turns to recovery. The doctors have told Michael not to expect to feel better for some time, that it will probably be towards the end of April before he starts to feel like he is turning a corner. In the meantime, living in the moment to moment of pain, gagging, and discomfort, recovery seems like an unattainable state.
With that in mind, Michael and I put together a base line of current symptoms and aids, kind of like a check list, so that when one of these things falls off the list, it will indeed show mending and healing are happening.
This list is not necessarily all inclusive and may be a bit TMIish for some:
- high blood pressure
- thrush
- high heart rate
- weight loss
- dehydration
- peeling skin (neck)
- dry skin (body)
- smelly mouth
- interrupted sleep
- fatigue
- mouth sores ("like a million paper cuts")
- afraid to swallow
- pain in swallowing
- radiation burn
- acid reflux
- loss of voice (hard to talk)
- gag reflex
- vomiting
- depression
- anxiety
- hair loss
- mucus, mucus, mucus
- lack of taste buds
- general malaise
Equipment/Medications/Aids:
- feeding tube
- suction machine
- ativan
- SSD cream
- diflucan
- pain meds as needed
As you can see from the above, your continued healing thoughts and well wishes are still desired and needed. Thank you all for your emails, calls, cards, and flowers. The house definitely looks like spring!
On other news, Finghin is recovering well from the chickenpox. Thankfully, he has a very mild dose that does not seem to be slowing him down.
************
Thanks to Bette for the fragrant healing balms; thanks to Mike D. for helping with the dump run; thanks to Holly H. for the soothing oatmeal bath mix; thanks to Gary R. for being there; thanks to Stephanie T. for the garden contributions; ever thanks to Grandma Teresa, the garden looks amazing!
Please continue to send emails to me at justclaire@gmail.com
April 05, 2010
Done at 32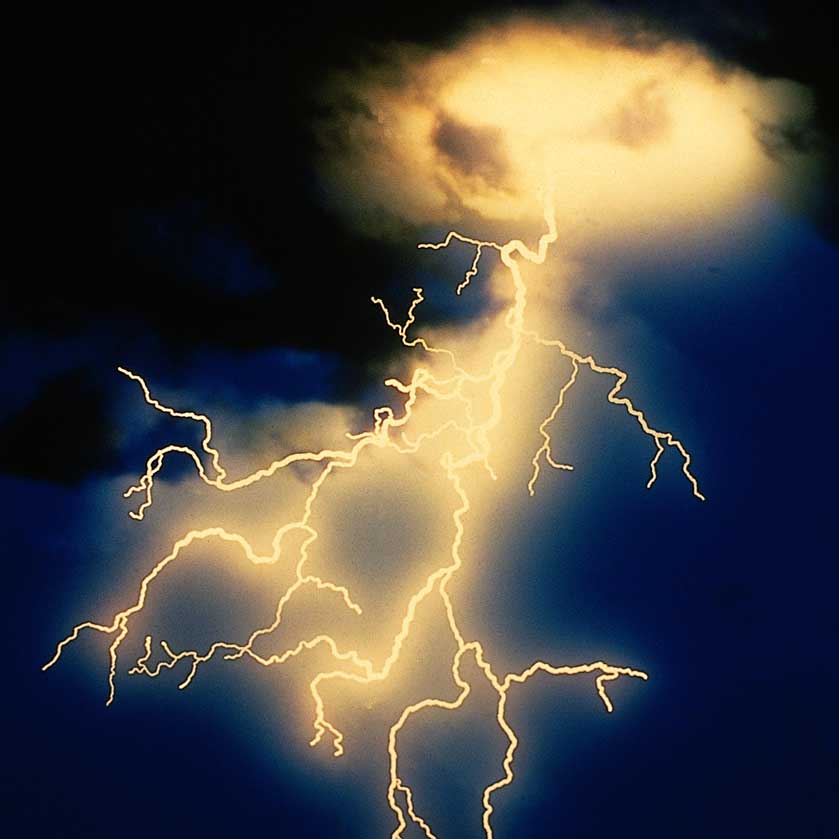 Mick here, feeling kind of ornery and maybe a little depressed. Friday was to be my last radiation treatment. But as that cold, gray day dawned a phone call came from PAIN which informed us that "the machine was down" and would need a few hours to fix but to rest assured that because it was my last day I was a priority.
Then came the call that the machine would not be fixed on Friday but more likely Saturday and they would arrange, yes just for me, a final treatment. Then we finally understood that Monday was looking as the most likliest of days when the machine would be up and running and I am a priority and so on. They clearly have no idea when the damn thing is going to work again.
So many questions like: What is the risk of stopping 1 treatment short? What is the benefit to a treatment three days off schedule? How effective is the last treatment anyway? This kind of science is all about "extrapolation" (Dr Lee) and "anecdote" (Dr G) and is rather "arcane" (Dr Guery).
The answers came today when we got another phone call from PAIN saying that the machine was still down, so I could not be treated today. So...... I'm done. How does it feel to be done? I'm not quite sure. For days I've been tired, from Wednesday's chemo probably, but now that the treatment is over, the waiting begins. Pat, my brother, talks about this so well he should write a patient guide for it.
In a sense I'm no different than anyone else waiting to die (naturally, that is). I might have a notion about some greater how-will-I-die possibilities than the next guy, but really things are not that different. I have this *feeling* that is behind me somewhere that I have to watch for and prevent from occurring because it is the most likely way I'll die. I tell you it is all bullshit.
This has been, and will never be anything more than a bump in the road. I guess I had to get all that out because I knew I was a bit depressed about it all. You know there was no single-finger salute to the machine or a final cd to take in (it was going to be Just Glad To Be Here - Mark McLay), no high-fives, no hugs.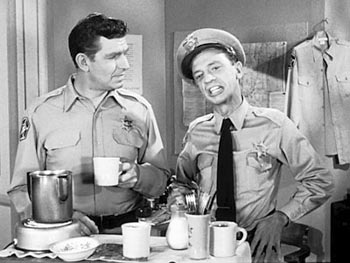 It is a bit Mayberry. You know like Barney Fife is in charge of the machine and the protocol and all and he says, "Whall, you know sometimes these things just work out the way they work out. 32, 33, who's counting?" Cue laugh track.
Ok, but really, I am grateful to all of you who visited here, and called, and emailed, and drove, and held my hand, and fed my family, and cried with us, and laughed with us, and took the time to become entangled in our little drama here. Our lives have forever been enriched by your many generosities. And even though right now I am quite the curmudgeon about how this all ended, ended it did!
In The Wizard of Oz, The Wizard tells the Tin man that a heart is not judged by how much you love, but by how much you are loved by others. In this way, my heart, and the heart of my family feel overwhelmingly loved and look forward to sharing the end of this journey with a high five, hug, party, something sometime down the road.
April 01, 2010
Day 44 - An Uneventful Day
Today was relatively uneventful......
- Michael slept a lot
- Feeding went well
- 1,680 calories
- No apparent side effects from yesterday's chemo other than fatigue
- No further weight loss
Tomorrow, after the 10:00 AM appointment, the mask that has been strapping Michael down to the table while undergoing radiation treatment from the Death Star comes off.
The dilemma Michael now faces is what music he wants to listen to on his last treatment day. What song would be appropriately celebratory?
Today's thanks to DD for the hand massage. Good luck with your couch tomorrow. Welcome to the world Sean! Congratulations to Paul, Jo and big brother Ciaran. Thank you to Noah again, and again, and again, and again...
On another note, some of you may recall that our 16 year old cat, Truffaut disappeared shortly after Michael's surgery in January. Today, I found the remains of Truff under the house. Truffaut was full of sweetness and patience. We miss hm.
March 31, 2010
Day 43 - Family Feeding
Today's Stats:
- weight loss: 26 lbs
- number of radiation treatments remaining: 2
- number of chemo treatments remaining: ZERO!! Wahoo!
- number of hallucinations today: 8 and counting
As many of you know we have not been hiding anything from the children when it comes to Michael's illness and treatment. If they have questions, we answer; if there is a change in treatment coming up, we explain it to them; if there is an expected change in Michael's symptoms, we talk about what to expect. So it was no surprise that the children want to be involved in the tube feeding!
This morning, Finghin came into our bed for his morning snuggle. Ten minutes later it was time for Michael's feeding. Normally I would have asked Finghin to leave, but he wanted to stay and help. Since I am still getting used to the process of PEG feeding myself, I asked Finghin to do a very important job of holding Michael's hand during feeding. He complied willingly, but was also full of curosity and wanted to touch the tube, asked about the formula, the syringe, what was going on. Finghin was totally engaged in his job and was feeling so proud to be so helpful. He massaged Michael's hand just as I have done his for the last 6 years. He smiled at me, gave me a kiss and said "You learned me how to do that". I was so proud of him. It was a very special moment for Michael too.
The 6PM feeding turned into a party, with me, Finghin, Hannah, Grandma, and Noah all in attendance. Afterwards, Hannah and Noah got the idea to sell tickets to attend the feedings. Four shows daily lasting about 20 minutes, exclusive engagement, limited time only!!!Tickets available soon!
Michael has his last chemotherapy treatment today. He slept through most of it as he had a couple of Ativan on board. I am not sure if there was residual narcotics in his system post surgery, or if due to nutritional depletion the effects of Ativan were amplified. Whatever the reason, he was seeing and saying some crazy things! One time when using the suction machine he said excitedly looking at the mucous "Did you see that?" I said "What?" to which he replied "That was a cricket, did you see that cricket?!". Later he proclaimed that there were small animals in his mouth; later still he was making precise hand gestures that included putting away blankets at the infusion center, outlining his spine, pointing out an unusual eraser to Hannah, opening a can of baby formula.... all very real to him.
During one of these moments (putting away blankets), he opened his eyes and saw me smiling at him. He laughed and said "You caught me, didn't you?" We had a really good chuckle as he explained to the nurses how he saw some shelves, he needed to make some space, and once he made the space, he started stacking the blankets. At least he seemed to be enjoying himself!!!
A huge thanks to all the nurses, pharmacists, and staff at the Infusion Center in Santa Rosa. They are caring, engaging, attentive, and full of compassion. They do an amazing job, and are good at what they do. Thank you for making it as comfortable as possible for Michael, for always making us feel welcome, for answering our questions, for your sage advice, and for flawless IV insertions!
March 30, 2010
Day 42 - Radiation Burns
The stats:
- weight loss: 25 lbs
- number of radiation treatments remaining: 3
- number of chemo treatments remaining: 1
- gallons of mucous produced: immeasurable
Home from the hospital and resting most of the day. Successful PEG tube feeding accomplished. It was a little strange when Michael coughed during the feeding, but everything went down.
Radiation burn on his neck has been steadily getting worse. It hurts and needs more care.
Instead of me rambling on today, I thought I would upload some recent pictures. WARNING: These images may be disturbing for some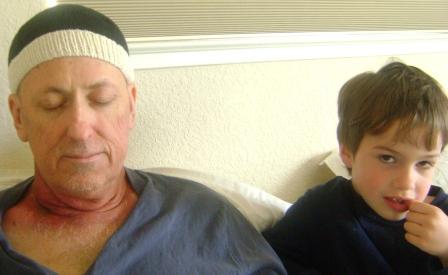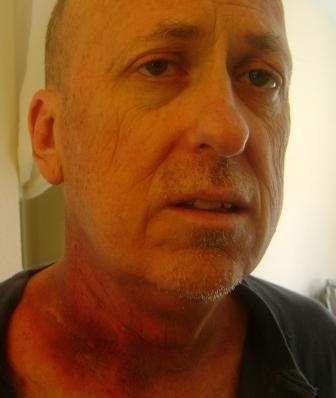 Continue reading "Day 42 - Radiation Burns"
March 29, 2010
Day 41 - Percutaneous Endoscopic Gastrostomy (PEG) Tube
Today was an early morning start and a full day of events. We were up at 5:20 AM all packed and ready to go. Called Kaiser at 6:30 AM and confirmed that a bed was ready and waiting for Michael. Arrived for our early appointment at RPCC to find ourselves locked out for about 5 minutes. After rattling the doors and knocking on the glass, the tech showed up, but we had to wait as her co-worker was stuck in traffic and running late. Yet, we got done quickly and made our scheduled arrival time at the hospital at 7:30 AM
We hung out in the room for a while, had a consult with Nurse M. and Dr. P. At 9:30 AM Michael was taken to the procedure rooom. I was just settling in, getting my knitting out, finishing up a hat for Michael and suddenly Dr. P. was back at 10:30 AM saying it was all done and Michael did amazing (he is amazing, isn't he?). There were no complications despite the mouth/throat sores and inflammation.
The rest of the day, saw me ripping out the completed knitted hat in its entirity and starting over, and enjoying random statements and comments from Michael in his sedated state. I also was studying my "Tube Feeding: A Step By Step Guide" book.
Michael is scheduled to be discharged tomorrow after I get my lessons in wound care and PEG feeding. Michael is comfortable and enjoying his room mate Randy who may not get any sleep tonight due to Michael's snoring and his noisy suction machine. I forewarned Randy to which he laughed and said that he did not mind as he was having a great time on all his pain meds!
Today's thanks go especially to my mother who continues to keep everything running so smoothly so that I can focus full time on Michael. To Tricia for sharing some of her day off with us at the hospital. Huge thanks to Tony and Heidi for dropping off enough dinner to feed our entire street for a week! It was delicious. And of course to the dude for his flexibility and ever calming presence.
I know Michael would want me to say something about Commander Taggert at this stage, but I can't think of anything right now, and besides Commander Taggert never had to deal with a feeding tube!
FOUR DAYS TO GO....
March 27, 2010
Day 39 - Michael's Words
So it is Saturday afternoon and I just asked Michael if he wanted to play charades or 20 questions so I could get the theme for what he wanted to cover in today's blog. Because I did not get his visual cues right away, he said "I'm thinking" in a Steven Hawking kind of way.
Here are Michael's words that he wants to share:
There is a key word that is used when Peter Quincy Taggert considers the use of a device as powerful as the Omega 13. Although the ultimate effect of the device is debated, it's length is known: 13 seconds. While his crew doubt that 13 seconds is enough time to do anything of meaning, Taggert suggests that thirteen seconds is enough time to redeem one bad decision.

The key word is redeem. Getting cancer is kind of like that. In a way, I am getting a chance at redemption, getting a second chance with a body that in many ways is in better shape (believe it or not - you need to see my labs!) than before this all started. With this perspective tightly in hand I have considerable opportuinity to make amazing positive changes in my life.

I will be thinking about what I would like to change post treatment, but one thing I know with certainty right now: I want to do all I can to honor the love, courage, and loyalty that Claire has shown me in this last difficult 40+ days. If you knew her the way I do, you would know exactly what this means. I will say now to her and to this company, as she sits in front of me typing these words, weeping, that I love her dearly.

No one in my experience has shown me more courage, devotion, and love than Claire has shown; and for the second time, I am calling myself the luckiest man on earth.
OK, the screen has suddenly gone blurry and the keyboard is getting wet, so I will adjorn today's entry in the words of Commander Taggert: "Never Give Up, Never Surrender".

March 26, 2010
Day 38 - ACTIVATE THE OMEGA 13
If you have been following along with this blog, you will see that Michael started off with his reference to Galaxy Quest shouting out the slogan and battle cry "Never Give Up, Never Surrender".
The story of the film revolves around the premise that when you lose faith in yourself, you are lost. But magic exists, and when all seems lost Commander Taggert orders activation of the Omega 13. Like all leaders who take risks, Commander Taggert is not certain of the outcome. The Omega 13 could kill everyone, or save them all. In the face of adversity when all seems lost, he gambles his chances and issues the order. By activating the Omega 13, it gives Commander Taggert and his crew enough time to correct one mistake that will then save all their lives.
In Michael's case, it is time to activate his Omega 13. To quote Michael: "My mistake was not getting the PEG earlier, by activating the Omega 13, I am getting a second chance". He is scheduled for PEG surgery Monday morning, preceded by early morning radiation at 6:45 AM. This will be an overnight hospital stay but it will guarantee the vital delivery of calories to carry him through to the winning line.
****
Today's thanks: SH and SN for a wonderful yummy meal; PJ for the most efficient IV fluids run ever; Allison in Scotland for being you and being there; JP for the healing beads; Ger for the bicycle delivery!
I am sure I am forgetting someone so want to extend a huge thank you to all of you who call, email, and send positive, loving, healing vibes. We all feel your support and relish in the energy.
Never Give Up, Never Surrender!
Day 38 - Best Mommy in the World Award
This just in from Mickey in Ohio... Pulitizer? Maybe not. Best Mommy in the World? Definitely!
My son is Michael, he is sweet as can be,
The youngest to sit on my lap contentedly,
One day I brought home a watermelon,
Seeing it he said "Mama, big apple!! (true) This doesn't make sense
Taking steps at ten months, couldn't hold him back,
Learning to talk with brother Pat; buddies forever,
Now that's a fact, OMG
I'll never be a poet nor a writer, that's not my style,
My Mick is the one to grow up with the gift,
His writing, speaking, singing gives me a lift,
He's mah baby! Sweet as can be.
This is awful - so I will now fleeeeeeeeeeeeeeee
March 25, 2010
Day 37 - The Highlights
Quick update for today...
Feeding was going well, now not so much
External skin at its maximum tolerance for radiation
IV fluids moved to a daily routine
Scheduled for feeding tube insert next Monday
Blood work results are awesome
Kidneys holding steady
Gatorade burns
New meds for thrush
New meds for skin
Buy in from nutritionist on my smoothie routine
Feeding sucks, but it is a part of treatment just like chemo and radiation
Today's thanks: to TB for feeding us (yes I will get the picture loaded); SH for her unwaivering love of bodily functions; BH for shaving his hair (what hair?) in solidarity.
Mickey we love you - hang in there!



March 24, 2010
Day 36 - Make Every Swallow Matter
Today is the American Cancer Society's Daffodil Day: Give Daffodils, Give Hope http://www.cancer.org/docroot/PAR/PAR_4_Daffodil_Days.asp
At the radiation appointment today two teen girls were handing out daffodils and doing a pretty bad job about engaging clients in their endeavor. I took them up on their offer and they presented me with a daffodil that was in much need of some hydration - maybe indicative of Michael's state.
This afternoon we went to my new satellite office i.e. Kaiser Infusion Center where nurse Cheryl set Michael up with his 2L of saline. As she was going about her business we were talking about calories. She said forget water - you need to make every swallow matter so ensure that whatever you are drinking has calories in it. Water with maple syrup, thinned nectar juices - anything that has calories.
Good advice.
March 23, 2010
Day 35 - Wide and Down
OK, I think I am getting the hang of this blog thing! I know you all miss Michael's good writing, wit, and wisdom on this blog. The trade off is somewhat regular updates from the caregiver perspective!
These days it seems that we get more and more challenges, yet in between the moments of deepest darkness, I still manage to find a point of reference that keeps things moving forward in a positive direction. Today was no exception.
Michael had his usual 10:00 AM appointment at the PAIN center in Rohnert Park (Amber - have you come up with a better name yet?). He met with Dr. Lee who told him that if he didn't start taking in more calories he would have no option but to go to a feeding tube. Also, due to his weakened condition the doctors may have to cancel his third chemo appointment coming up next week. So... today we worked on turning things around.
I have managed to come up with an awesome smoothie recipe that contains around 485-550 calories in a volume of less than 2/3 cup (it helps that Michael's taste buds are not exactly functioning as normal). So the feeding routine involves a lot of lavendar, massage, and calming talk to bring the energy wide and down, rooting the healing and avoiding the gag. We are 3 for 3 so far and on target.
This routine takes time and is very hard on Michael. During one of the times today I was thinking about how much I take eating, drinking and swallowing for granted. Can you imagine dining at a restaurant where the thought of eating was repulsive, yet the servers were massage therapists, the bus boys were lavendar squirters, and your dining companion was encouraging you through the eating process by having you focus on your breath and drawing your energy wide and down to avoid the gag reflex?
On other news, a shout out to PJ for filling in the voids and always coming up trumps. A big thank you to Julia for the magical breakfast cereal mini-boxes including Fruit Loops. Also, to my brother-in-law Pat for his immense knowledge, experience, compassion, and love. He always grounds us and helps us through this medical mess guiding us to make better decisions. We love you Pat!
By now, I am sure you have all figured out that Michael will not be returning any phone calls in the near future and most likely will not be responding to emails. Feel free to contact me at justclaire@gmail.com and I will do my best to get back to you.
Single Digits
We are down to single digits for radiation treatments.... YAY!
Met a wonderful Danish nurse at IV fluids yesterday who sent us home with fistfuls of supplies and information.
March 21, 2010
Days 28 - 33 - A little pain can dim the blue skies
Weight 171
TMI Warning - High
The editor-in-chief has delegated blog updating to the copy-editor so we can continue to document this journey and adventure. Through a combination of charades, instant messaging, and sign language from Michael this is Claire offering an update to you today.
So the good news is that 1) only 10 radiation and 1 chemo treatments remain, 2) a suction machine arrived to help with the troublesome mucous, and 3) we have a plan for hydration. Challenges continue as Michael struggles with maintaining weight, eating, speaking, while dealing with the ever present mucous.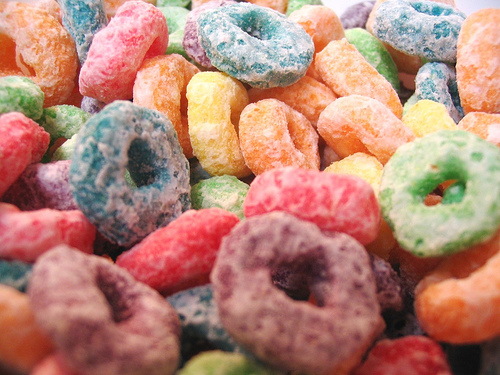 Today we were greeted by a cool, foggy morning and Michael was pretty upbeat as he managed to work successfully through the morning mucous routine while remaining calm and avoiding the gag reflex. This brought a smile to his face which was great to see. We went for a short walk as Michael was craving any of those sugar-laden, preservative-loaded cereals he ate as a kid. He brought along his trusty companion of a cup of warm water but, while spitting and hacking all the way to the store, his morning cheerfulness came to a sputtering halt. "It's funny how a little pain can dim the blue skies," he said after stopping behind a bush to deposit some goo.
We walked out with a compromise to what he wanted. We bought an organic grain honey-cheerio type cereal of which he ate about 3 spoonfuls. We're going back for the Fruit Loops and the rest later. The kids however were grateful!
So, the details......
Michael's weight today is down to 171 pounds as he has been having a hard time taking in calories the last few days. This is not because he is nauseous, not because he can't swallow, but because of all the damn mucous in his throat. It accumulates and when he tries to expectorate it triggers his gag reflex and causes him to vomit til the dry heaves come. Not good. It gets us all down, especially Michael. In one of those rough moments yesterday Hannah approached Michael and said: "Even though you're going through this, I still love you very much". That's some kid!
In meeting with Dr. "Hee-Hee" Lee on Thursday a concern came up over dehydration. As a result, we are now traveling to Santa Rosa Infusion Center every other day to get 2L of IV fluids. This is good. While we were there on Thursday Michael was tended to by Nurse Debra. She is a very gentle, soft spoken person who happened to mention that she had a patient a while ago who had similar mucous problems. She suggested a humidifier and a suction machine. The humidifier is meant to help keep things viscous (it doesn't really) while the suction machine, powerful enough to suck your tonsils out if you're not careful, is meant to help clear the stringy stuff out, which it does with great effectiveness.
Mike, the Apria technician came by late on Friday evening delivering the machine and running us through the operation. Michael tried it and a huge smile spread over his lips, he turned to Noah and whispered "Dude, wanna hit?"
A shout out to Heidi, Tricia, and Susan for a wonderful "caregiver" evening at Studio E last night. They colluded and arranged all the schedules and logistics (except a good map) to get me out for a night. It was a great to see you all (TMc & DMc too) and great to see Kenny White in his John Barbados's and little pork pie hat.
We continue to be ever grateful to Grandma Teresa. Laundry, dishes, sweeping, reading books to kids: these things never got done as quickly and the gardens (front and back) are taking on shape, form, and color.
We are also ever grateful for all of our radiation drivers, those who shuttle the children to and from school, those who offer encouragement, love and support from near and far. We love you and can feel the collective energy as we enter the countdown to April 2nd.
March 12, 2010
Days 22 - 27 - Long Days, Longer Nights
As several of you have gently notified our publisher, we have not posted anything in a while. Had I not the will to document this human experience, I would simply say fuck it and stop typing now.
This was a huge week because Claire was going to be gone two nights and three days in Santa Clara for her work. We must support her not only because she's the sole bread earner but also because she is the life force behind this family. We oblige her in the ways in which she needs obliging. She is a super, human being.
I'll try to bring you up to date starting with Monday the 8th and adventures with PJ. He is a friend from my O'Reilly conference marketing manager days. I remember liking PJ straight away because there was no artifice. He was/is funny and self-deprecating and very intelligent which all seem to work well in a general formulaic sense when it comes to people in general and to people I like and admire in particular.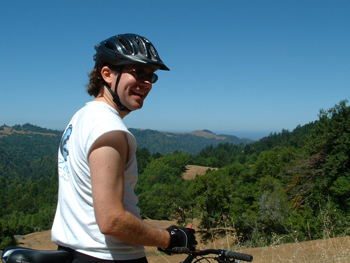 PJ was my unoffical coach for the AidsRide I did back in 2002 and we've remained in some contact even though we have at times both felt it slipping away. When PJ heard about my illness his words on support were "I'm all over that". Awesome. He drove Monday to the rads in his *sweet* smelling car and again on Tuesday where he not only drove to the rads but also to see Dr Andersen (chemo Dr). But as an added bonus PJ got to take me to a hearing test as well!
The Drs were worried that the first round of chemo obliterated my hearing (which it is known to do, and it has done) but my hearing therapist Nancy was delighted to report that my hearing is "very good, what we expect at age 54." I said that I felt I heard as well as any 30-year-old, but that the difference was in content rather than frequency. She didn't get the joke, but instead offered me her hand, a grim 'you're-going-to-make-it' look on her face, and added these words, "It was a pleasure meeting you Mr Morris, and best of luck to you." Ugh. YACP - Yet Another Cancer Patient. I've seen this scenario played out many, many times with the people I hang out with sometimes.
Some eagerly lap it up like it's the latest dose of the positive vibe medicine that will turn things around for you. Others rather avoid it, the defining moment of receiving the gift must be too much to bear. I'm a little off center. When I get it I am looking into the givers eyes and wanting to know what their experience is and I want to ask, 'Is this moment significant for you?' and get right into our shared assumptions about what the other feels or needs. Awesome.
With PJ it is not like that. PJ is as real as they come and has no problem keeping his eye on the ball. He's the one with the original quote "we take care of our own." I love that and have always loved it and thank you PJ for saying and living it.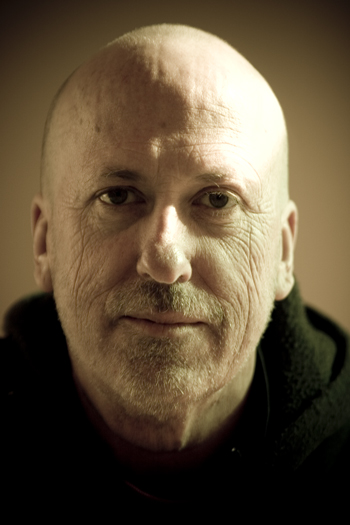 On Wednesday dear Noah was on board to take me to rads and chemo. Noah is the Dude and no one is quicker nor smoother on the uptake. Noah had the double duty of crashing on my sofa Tuesday night "just in case". You might recall that it was Noah who stayed in the hospital with me after surgery. Salt of the earth.
The reality of my life right now is that the days are really long and the nights are longer. I can sleep for about an hour then I will wake up with a mouth like the Mojave: dry and full of cactus. I rinse for about 15 or 20 minutes then I can sleep for another hour or so. Sometimes I make it 2 hours before needing to rinse and for that I am grateful.
Chemo. Chemo is bad. Chemo is poison. Chemo kills cancer cells effectively but it kills a lot of other cells effectively. It has laid me out. I am so amazingly tired. This time I am also a bit nauseated too, which didn't happen the last time.
The throat pain is less too which is good because I can continue to hydrate, but food is another story. The taste buds are getting fried too and food is losing its taste. A lot of things taste like cardboard so there is little pleasure in chewing. I can taste strawberry and milk, but bread with butter is similar to paper, and eggs, once the staple on this journey, now make me wretch just at the thought.
The Drs say this is all "to be expected" although they can't tell you exactly what to expect when you start because "everyone is different". Sheesh what a bunch of crap.
I haven't eaten much and weighed myself today at 172. Not good and they're going to be freaking out on my weigh in on Monday's rads appointment. Oh well, I am hydrated and that's the key point right now.
1 more chemo treatment slated for the 31st and 15 more rad appointments scheduled to end on Good Friday. There is a lot to report, but I will leave you with this amazing gift I received from my son Finghín and it's making me cry as I recall it now.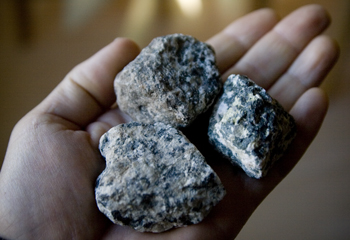 Grandma Teresa collected Finghín from school on Wednesday and he made it home just as I was leaving with Noah for the chemo treatment. He came up to me with a huge smile and said, "Michael I have something for you. It's three rocks!" He had stowed the rocks in his jacket pockets. When he walks home he likes to collect these granite rocks from the path. He says they are rocks that have power.
"Oh, that's great pal, thanks," I said.
"Yeah and this rock," as he hands me the first, "is to help you eat." I looked up at Grandma Teresa and she shrugged indicating she had no idea where this began nor where it was heading. "This rock is to take away the pain," he said as he handed me the second rock.
"And this rock is to take away the worry," and he placed the third rock in my hand alongside the other two. I think all I could do was hug him but I may have said thank you. I'm not really sure because I was so astounded by Finghín's depth and understanding of my experience.
As you can imagine these great gifts from the youngest, the one we assumed had the least understanding of what I was dealing with, had shown the greatest understanding of the heart.
I sobbed in the car and Noah said "That's some kid." He sure is.
March 06, 2010
Days 17 - 21 - Piano Man
Weight 175.5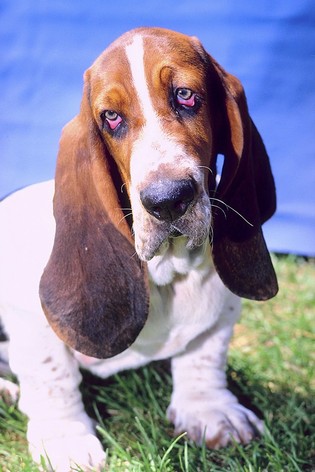 It's been pretty rough. Treatment 13 was Friday (March 5th) so now I'm on 2 days of rest. Got morphine yesterday but not using it yet. Still using Tylenol but it's not quite taking the edge of like it once did. I can't tolerate vicodin or codeine so I get to go straight to morphine. I don't rally feel like I need it yet but Superwoman Claire (she's my girlfriend, didn't I tell you?) gets scared when she watches me eat (lots of wincing and "fuuuuuuuuuuuuck" and "ouch, Jesus Christ!" and moaning - just my jolly way of getting it down) and says "just so we have it." She's awesome.
I gained .5lbs yesterday and that made everyone very happy. Next chemo round is this Wednesday (March 10) and I am not looking forward to that. Mouth sores, major pain on swallowing, dry mouth at night, lot of mucous, fatigue, those are the chief problems so I tend to be kinda quiet around here. I get "Are you ok?" a lot when friends drop by and I have to say "mucous, sores, pain" and they get it.
BUT I have been playing a lot of piano and because I am so sick I can FINALLY get my friends to sing! It's completely entertaining to me and the *perfect* distraction. The tunes I normally sing I pull out and give the musical friends I have the hound-dog look and they start singing when I start playing. The power of empathy!
First Lori came by (BFF and keyboard player in he Beets) and we worked on a new tune of mine. It was sweet. Next DD came by (friend from SSU) and I pulled out the Gillian Welch tune Miss Ohio and she got right into it because in my state I cannot (will not) be resisted. We then sang together on The Weight, one of my all time favorite tunes. My piano work is just good enough to get us by.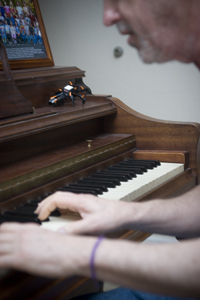 We jumped to guitar then and tried Little Green by Joni Mitchell. Finally we agreed that I would figure out California and Case of You for her return visit next week.
Then yesterday AEM (another friend from SSU) showed up (with a pint of THIS!) as my rad driver to the RPCC which we are renaming PAIN (still carefully working on the acronym - Pain And Intolerance to your Noise? Purgatory Associates and Injury Numb-skulls? Any ideas?). Anyhow, she can sing too and we did the Beach Boys' Don't Worry Baby and it was really sweet. My singing is not so great right now but I pushed through for my parts to help out AEM who, for some reason, could not stop smiling. Sweet.
The ever present N stopped by with M to say hi and check out H who loves all the young women of the community of caregivers. I tried to get M to sing, but she was bashful and declined. N said he would but interest in that faded quickly for some reason. Finally F did Bulldog and then got out his mandolin and we did I've Just Seen A Face together. Really sweet singing with my boy.
Really sorry to the folks who are calling (Yrag, MOS, Innie, yep even mom) that I can't take the calls. Singing a bit, as you know, gets me going and I fight through, but chatting on the phone is just too much damn work and the stuff in my mouth works against me carrying on a conversation. Email is awesome and please keep them coming. All your best wishes and thoughts are absolutely crucial.
I love to have visitors so if you're around please let Claire know you want to stop by. 26 days left to end of treatments. Drs warn that it's going to get worse but I intend to hang in there. Thanks for your help in making it possible.
March 02, 2010
Days 12 - 16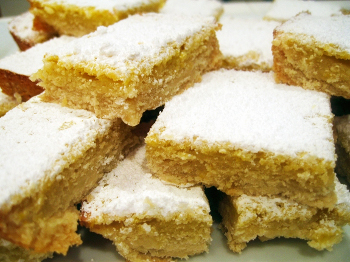 Wow.
Sorry for the lack of information, but the pain of the radiation is difficult to describe in qualitative terms. It hurts. A lot. More than a lot. The sheer intensity is unlike anything I've experienced before. I could imagine having my skin peeled and that seems to work. Every swallow is agony. This morning (March 2) I started my smoothie at 8 am. It is now 8:54 and I am a little more than half-way finished.
I discovered the joy that is magic mouthwash the other day. First I had a tongue that was far bigger than my mouth and too sore to do anything with other than hang it out like a too tired hound dog. The next moment I was normal. Great stuff. it doesn't seem to work well for the throat, however.
A friend dropped off a *lemon bar* the other day and said it was "good for increasing your appetite". I took a square centimeter of the stuff and while it did not increase my appetite, it did send me down a mellow road for a while. I got a headache yesterday and I don't know if that was related. I may try it again because I did feel pretty good (I slept a lot yesterday).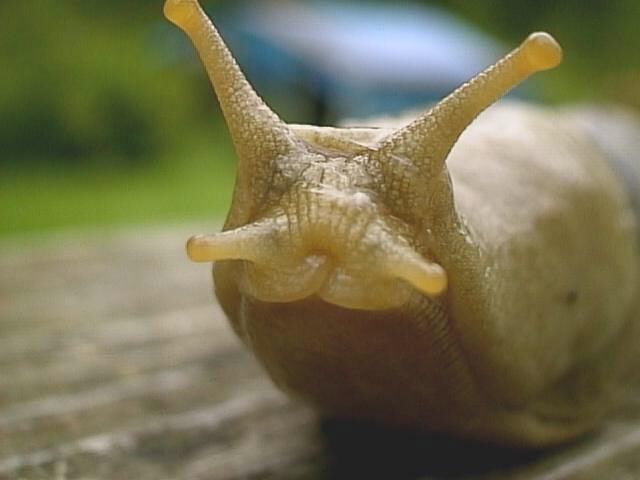 Last Sunday (28 February) breakfast was a smoothie. I went to band practice after that (I need to ROCK dammit!). I got home around 1:30 and ate another smoothie and scrambled eggs with cheese. After that I had 12 ginger snap cookies and 2 glasses of milk (540 calories!) and it was worth every single bite. I had about 1800 calories that day and that's my daily target moving forward.
If this is how bad it gets, I'll be fine. If it gets worse, well, it will get worse and I'll still be fine. Thanks so much for all the emails. Sorry about not being able to take phone calls. I find it really difficult because of the amount of mucous I am generating. It's like a banana slug lives in my mouth. Sorry if that's TMI, but it is part of this experience.
5 weeks to go. Roll on Good Friday!
February 27, 2010
Special Report
Grandma Teresa has arrived safely to HQ, Jefferson Street, Petaluma, CA.
Ferried by nephew and niece-in-law and welcomed gratefully by patient, daughter, and step-grandson, Grandma gracefully refused lamb stew, gladly accepted tea, viewed her room (with an un-view), and began her 2010 American extended stay to help us through this marathon.
February 26, 2010
Day 9 & 10 & 11 - is that food?
This is starting sooner than I expected, but of course not a total surprise. 8th treatment today (February 26th) and the sides of my tongue feel a bit numb and food is taking on a generic flavor. Even ice cream (sigh) tastes like chicken.
At the risk of seeming that I want to be isolated (I don't) I want to also report that I notice I'm getting a bit cranky - short tempered, irritable, not very nice - especially when I am getting asked a barrage of questions like "how do you feel?" and "what can I do?" from very well meaning people (friends, family). [Claire just asked, "From a caregiver perspective, is grumpiness cumulative?" Funny]
This is quite the lonely road I'm discovering.
I have no idea what to say to people when I'm asked these questions and I'm tried of giving the same report over and over: It sucks, I don't know what I need, I don't know how you can help me. Everything is happening way too fast and the loss of control of all the things I once had mastery over is devastating.
It is good to talk about this and other joyous topics with the friends who are giving me a lift to the rad treatments. Honestly I think I could drive myself sometimes, but knowing that I'll have someone there means a lot even though I may not feel like talking about "how" I feel. I get a great deal of comfort from the humor that typically joins us for some stretch of the 10 mile trip to the RPCC.
I don't feel depressed, but it is likely I am. I think this must be the territory of depression. My brother called today and said that it is like I'm climbing Mt Everest and he wanted me to know that he is there right with me. That is a great visual and wonderful sentiment which I appreciate very much, but it is ultimately untrue. In his heart he is with me, in reality this journey passes in extreme loneliness.
This is, for me anyway, rather like a marathon, my first. Each night dealing with dry mouth, each day of difficult treatments, each liter of water, each bite of food - these are my milestones. I see that my preparation for the race has been when I have sucked it up in the past - school, work, life - just to get through a bad day. I am drawing on those experiences now and making good use of them. Tonight was a case in point.
I'm strapped to the table under the mask (not yet use to the claustrophobic feeling) focusing on my breath, counting the radiation passes, counting with the music (Traveling Wilbury's tonight - "I'm so tired of being lonely . . ") when I get this intense itch on my right shin.
Now, if I move, I risk having to skip the treatment because I will get out of alignment. So I go right into the itch, feel every microscopic nerve cell screaming for attention, knowing there is no way I am going to jeopardize tonight's treatment for a little itch. There was a lot of power in that and in a practical kind of way very meditative. Maybe a little strange too.
Big news: Grandma Teresa arrives tomorrow! We are all very grateful and excited to have her here to help us with the marathon. It is likely she is less excited than us, but she reports that she is "well up for it." In my heart I feel for her and - she will kill me when she finds I've written this - at her age (there, I said it) the sacrifice she is making for us is significant on many levels. I truly, truly appreciate her help.
A big shout out to SH for helping the kids at drop off today! w00t And to CR for the drive tonight and the 2000 calorie value meal.
February 23, 2010
Day 7 & 8 - Do they even make this anymore?
Weight 178 (day 7)
Weight 179 (day 8)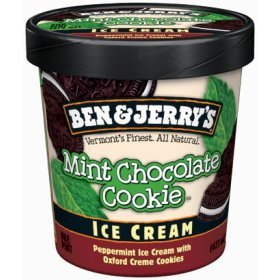 The ONLY thing I crave is this. The best ice cream in the land. Part legendary exquisiteness, part post-modern narcissism, mint chocolate cookie (formerly mint OREO chocolate cookie) by Ben & Jerry's is all I want all the time. There is some evidence that I crave this (mentha) for a very good reason:
Mint was originally used as a medicinal herb to treat stomach ache and chest pains, and it is commonly used in the form of tea as a home remedy to help alleviate stomach pain. During the Middle Ages, powdered mint leaves were used to whiten teeth. Mint tea is a strong diuretic. Mint also aids digestion, in a way that it breaks down the fats. In recent years, it has been often recommended for treating obesity. --Wikipedia
While we tend to best agree with the sources that best support our objectives, I do not think I am far wrong here. Claire surprised me today (8th) by agreeing to getting it, but WF was out. She thought of getting me "mint chip" but I would not have eaten that. Just not the same.
IF ANYONE CAN GET ME A PINT I'LL BE YOUR BFF OR SOMETHING ELSE YOU REALLY WANT!
Today was ok. Still tired and still difficulty eating. The labs are back and all the people who look at these things are happy, so I guess that means I get another round of chemo on the 10th.
Had a great time with Lori today. She was my driver to the labs. She is easy for me to be with because she laughs at everything, even when I am critical of her driving and her obsession with her car's "emotions". She is a great friend.
Gonna try and pick up the tele today because band practice is Sunday. Hopefully I'll have the energy soon be fore I wont have it again after the 10th.
This sucks.
NOTE: Sources report that BJMCC is on sale at Oliver's $3.69/pint.
February 22, 2010
Day 6 - Even Better
Weight 179
On the whole today is better. Today the tummy is not as unhappy. The bloated-ness is abating and I'm able to eat more. I'm posting my weight as a reminder that I need to keep it from going down too far (<160 is too far).
The USA hockey win was a bit of hyperbole comparing it to the Miracle on Ice, really no comparison. However there is something about underdogs that gets my attention. Not necessarily in my case, but close enough to think about.
In reference to that rambling prologue, I chatted with PJ today for a bit and that was nice. We talked a bit about Lance Armstrong and his struggle with cancer (not to mention L'Alpe d'Huez). The insight I found when chatting with PJ is that the battle for experience is not just somewhat about intention. It is written in a lot of places about what the power of positive thought can manifest and it was never more present for me than today when I stared at my lunch. I have to eat. There is no *not* doing it.
Claire made chicken, re-fried beans, and Spanish rice, foods that I have heartily enjoyed as recently as a month ago, indeed last night now that I remember (thanks Ger!). Today they were the hurdle. If I am allowed to suppose, in a very small way, I think I may know what Lance likely knows. There is real difficulty in the emotional work of making the decision to do what you intend, as well as real difficulty in the physical work involved in doing it. I do not mean to imply that the emotional work is *harder* than the physical; in my experience most of the time this has not been the case. It's just that today I knew that if I did not decide to eat, I would not and, for me, that has been the battle this week.
It makes me feel extremely fortunate that I have such a choice. There are many people who would love to have the same choices as myself. In more cases than we need to supply, to not exercise the choice is extreme foolishness, yet I can tell you in all honesty, sometimes that simple decision is absolutely the most difficult one to make.

Rads started up again today and it was annoying. I think the people down at the RPCC need sensitivity training. A nurse tonight taking my *vitals* took my temperature with an ear monitor that was barely in my ear. She then tried to shut the door without asking me if I wished it closed. When I first went there a rad therapist was delighted I was no longer working because it was "easier for her to schedule."
She did not ask if I had an emotional reaction to not working. If she had she may have discovered that I had to terminate with 11 clients telling them I could no longer be available to help them. Had the nurse known what it's like to be strapped down to a table with a claustrophobic mask over *her* head, she may have thought twice about shutting me into a small exam room. I know this is petty, but it is meaningful to me. I am putting in my best effort to arrive and go through this difficult experience. I would like to know that these people are doing the same. Talk to the Dr? Come to think of it Dr Lee (rad onco) has never had a mask made for him nor been strapped down like his patients. Hmmmmmmm.

Sorry. I know this is rambling and whiny. I am trying to make this meaningful for me and anyone interested in the journey, but my brain isn't working quite right. 38 days to end of treatment. Ugh.
February 21, 2010
Days 4 & 5 - A little better
The main problem right now is eating. I am definitely off my food. My tummy feels bloated most of the time but there's nary a thing in it. There's other stuff going on that's definitely TMI that is contributing, so I guess my body is just trying to figure things out.
Saturday Claire and Finghín and Julia and Paul and I all took a walk around Schollenberger Park (a local wetlands). It's 2 miles around and I did pretty good. I wanted to try it today, but it's rainy and I've little energy. The motivation is there, but man I am simply wrecked.
The great Caroline Hegarty came over Saturday night and cooked (no, really) an awesome swordfish and soup and some other stuff. Everyone is still alive and anyone needing evidence of her culinary maturation may now utilize our vote.
Rads continue on Monday and I doubt I'll have anything jolly to note about that. It's supposed to get worse in a few weeks so maybe posting will become a bit more of a chore. I hope not. I think it helps me a bit.
Today (Sunday) I had a decent brekkie and got up to have lunch just now and all that appealed was a strawberry popsicle (all natural, mind). I know I gotta keep the weight up, so maybe I'll start in ice cream next?
Right now I'm trying to keep up with paying bills and help out around the house a bit. Tyler is here this weekend helping too which is awesome.
February 19, 2010
Day 3 - Eat, Sleep, and Be Unwell
Ugh.
Cisplatin is the current chemo drug of choice for head and neck cancers. Cancer cells don't like it and neither do I. It works in combination with radiotherapy to "sensitize" the cancer cells into committing suicide through a process called apoptosis because these renegade bastards forgot how to do it by themselves.
The impact of the drug is mainly fatigue in my case. I do have some stomach issues, don't really feel like eating, but Claire keeps reminding me that the fight is about staying hydrated and fed, so I eat, sleep, and generally feel unwell.
The stuff singles out fast growing cells like epithelial cells (basically the the tube from stem to stern in mammals) and causes all kinds of nasty side effects. I hope my adventure is limited in that arena.
Xander was my ferry last night to the rads and as usual any time with Xander, sick or not, is fun even when you're about to be baked under the Death Star at the Rohnert Park Cancer Center. He gave me a gift which will help me on my return from the cave: "Lead Guitar Licks". I think he's trying to tell me something.
Ugh. I feel sick, but not sick. It's kind of like a malaise that just hangs on me like an old coat you never liked, that defines me in a way I do not appreciate nor, for the moment, do I have energy to change. The heaviness is the treatment I know and I will get through this. But it sucks mightily.
I'm thinking about D (love you kid), and J and all those on the Cancer Survivors Network who I commune with daily. Most are going through or have gone through what I'm going through. In reading their stories I get inspiration and perspective. This wont last long.
I know a lot of shit happened yesterday, but my memory is foggy. I know I had the hiccups again and they lasted for a couple of hours. Miraculously they ended just as I was strapped to the rad table which made me feel a bit better. At least the beams would be more on target than if I was bouncing around like an ant on a hot plate.
Anyhow, I very much appreciate the calls and best wishes. Please keep them coming and please remember Claire is working overtime trying to care for me and the kids and work and the house. She is a blessing to me and this family.
February 18, 2010
Day 2 - ER visit
TMI warning - if you find references to bodily fluid and trips to ER disturbing stop reading now.
Day 2 arrived in the form of chronic hiccups which are the result of the anti-emetic cocktail and reaction to the Cisplatin. The 3.5 hour hiccup episode ended me up in ER with a bit of blood in my vomit. Not a lot but enough to scare some people on the telephone (infusion nurse Jason, for example).
They kept me for a couple of hours and decided since there was no blood in the other end, I could take a 'pepsin' (an anti-acid for the stomach) and go home. I didn't go home though. Bill (rad therapist) called from radiation and asked if they could move up treatment to 6:30 so Noah, who arrived unexpectedly but to my great appreciation (as I was practicing Qi Gong in my private ER room) asked if he could do anything. He is now a veteran of trips to the Rohnert Park Cancer Center where I get the rads. Xander was to taxi tonight, but because the Dude was there, he was put on standby and will taxi me on day 3.
I did not take Ativan tonight because I was better prepared and especially after meeting J I knew I could get through it. What agonized me at first was that because of the ER visit and the change in the rad schedule I did not have time to get home to get music. Ugh!
Noah came through though. He had Mark McLay and the Dustdevils 'Love and Barbwire' cd and that got me through. Mark is an amazing talent and that he is a good friend is double the pleasure for me.
Noah eventually delivered me home after the 10 minute treatment and not without performing an amazing feat fit only those of thin bodies and youthful vigor can perform, crawling through the cat door because we were locked out (taking a house key along for the ER trip had not occurred to me). Claire and the kids arrived home shortly after and I slept well.
Updates may occur throughout the day ...
February 17, 2010
Day 1 - Never give up, never surrender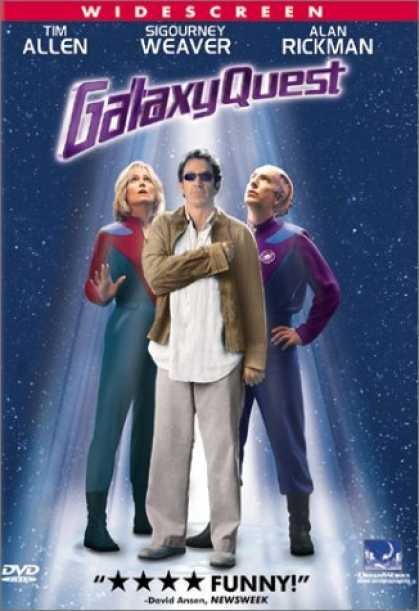 Day 1
I'll be updating as I recall events so these words may change a bit but today was day 1 of chemo and radiation. Chemo takes place at the Kaiser Hospital in Santa Rosa. The facility is just that. There is nothing warm and fuzzy except the staff who all seem to have pointy tattoos eerily sprouting from under purple garments, or sad hair trying desperately to look happy with unfortunately scented products.
It was uneventful to say the least. Yes it was scary, but this is a battle and it sucks, but I did have Claire and Noah to keep me company for most of it and that was fine as we tried to eat what the hospital had. Next time we'll bring a picnic.
Prior to starting I met a woman, Joyce, in the lobby who was doing day 6 of 12 treatments for breast cancer. Her voice was lovely. She had on a purplish flop hat not really hiding the baldness underneath, and was significantly near-sighted as her eyes shrink to dark beads behind her rimless eyeglasses.
I started 'the interview' which I am prone to do, a bit like my long-lost Father-In-Law Laurence McCarthy who could not go anywhere without striking up a conversation and then reporting back the salient details (such as the time we went golfing in Monte Rio and met a very large African American man and the two of them took to each other like brothers: "He said his name was Patrick, but he likes to be called Bernard. He said he's Irish, black Irish, hee hee hee").
In the interview with Joyce we discovered a glimpse into her life and work in the Peace Corps in Uganda in the 1970s (!) and then Ethiopia prior to the revolution. It made me think that people are so much more than their illness and that telling this story might be important. I'll follow up with her later.
She then spoke about what to expect and when I was called she said, "See you in there." We went in with Infusion nurse Cary who is as sweet as apple pie. She had a creepy tattoo inching from under her uniform and under questioning revealed that "everyone has them here so watch out". Lovely.
She started me on hydration because chemo fucks mightily with your kidneys and after an hour she brought in the Cisplatin (100 mg/m2). I recall Cary and nurse Jason being thrilled about the size of my skin, the meaning of which went over my head a bit. It had to do with the difficulty of dealing with "surplus adipose tissue" which Claire tells me means "you're not fat". Hmmmmm.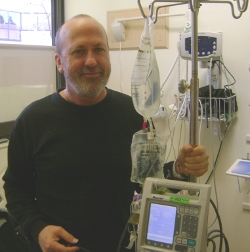 Noah, the Dude, had to leave after a bit, but as always his calm presence is a blessing and "I don't know about you but I take comfort in that. It's good knowin' he's out there. The Dude. Takin' 'er easy for all us sinners."
Toward the end of the Cisplatin bag there were several nurse shifts happening because they didn't want the bag to "suck air" and since it was on a pump, they had to reset it several times. One time a very nice but crusty-looking nurse, Cindy, waddled in to check the machine (that does go "ping", by the way). She was struggling with her girth to fiddle with the thing, but chanced a look over to me and, with an unexpected wink, said, "Chemo virgin, eh?" I took up the challenge. "Yes," I said, "and I'm getting fucked right now." She laughed and I added to the old joke, "And I'm not even getting kissed."
Chemo was then done. It was 2 p.m. I had a few hours before the beginning of radiation and I cannot recall what I did, which Claire is telling me is a side effect of what's happening to me, short-term memory dysfunction. I think we went to Walgreens and I had a conversation with Xander on the mobile phone. He called without leaving a message, so I called him back. I asked what he was up to and he said, "Putting up drywall at the school by myself. What are you up to?" "Oh," I replied, "not much, just got done with chemo." X laughed, "You pussy, get over here and help me!" It was perfect.
I declined and will see him tomorrow night as he'll be my taxi to day 2 of rads.
Radiation is freaky, strange, and just not natural. I have to wear a mask (photo coming) and get strapped down to a table on which an overhanging X-Ray Death Star swivels about my head invisibly zapping all the targeted cells, bad and good, to Kingdom Come. Noah swung by for a bit of dinner and ferried me up for my first treatment.
As these things go, the Rohnert Park Cancer Center has two Death Stars but I guess the Rebel Alliance wiped out one of them because when we got there we found that we were pushed back by an hour because Death Star #1 was out of commission. Where is Chewie when you need him?
Noah and I spent time chatting about the clinic where we both work (well, not me right now), and other opportunities we are exploring, The Big Lebowski, and the occasional acid flashback, when I turned to the other person in the waiting room with us, C.
C was a driver for J who is being treated for brain cancer. I initiated an interview and J's story was so compelling that when she finally came out I wanted to talk with her and gave her my number and offer of support. I could not help myself. She took the card and said she would call.
Soon rad therapist Vanny then collected me and brought me to the room. I had The Band cd Rock of Ages and dropped 2 Ativan so I was ready to be zapped. 20 minutes later we were done and I came home. I felt fine really, but Day 2 offered unexpected surprises and more excitement.
February 16, 2010
Day 0 - Prologue
PLEASE NOTE: The posts may be delayed by a day or two because the chemo has me knackered. For your calendars just know that treatment started on Ash Wednesday and will end on Good Friday. Make what you want of that. I'm expecting to have similar *metaphorical* results to the Jesus myth, in that I will rise from my Jefferson Street cave on that day free of disease.

Howdy folks. Here I start again on this blog that has been fairly bland and regurgitates often what we find at popurls or the beeb or elsewhere, but today we set sail on a new course where I am at the front lines of a battle. If you're interested please follow along. I cannot promise this will be easy, but know that it will help me in the process of dealing with this dangerous illness.
Ok, for the uninitiated here's what happened. On 18 December a lovely pathologist named Dr Britt Ljueng from UCSF did a fine needle aspiration (FNA) on an enlarged lymph gland just under my right ear in what is known as the jugular basin. As I lay there and Claire sat near by biting her nails up to her shoulders, Britt focused her microscope on the tissue she just removed and said, "Yes, I see squamous cells here."
What that means in other words is, "Mr Morris you have cancer." She went on to describe the type of cell as poorly differentiated and slow growing which as I learned somewhat later is not the best of news treatment and prognostic-wise. She wrote on her card 'preliminary impression - nasopharyngeal carcinoma'. What that means is that somewhere in my mucosa, possibly the nasopharynx, malignant cells had grown then metastasized to the right jugular lymph chain. There was not, and remains un-found, a primary tumor.
We left the building and I called Pat, my brother. He's a scientist and is great in these need-a-direct-and-unequivocal-opinion scenarios and he was perfect, is still perfect, and I am so grateful for him in my life. He's got his own cancer story to tell, so I wont divulge more than that here. Just say he was my first best friend forever and remains so.
Yet, it was in talking to Pat I started to descend to the bottom. This was real. I paced outside the deli at Divisidero and Bush across from the UCSF Med Center and wept into my mobile phone. I recall saying, "Pat, I'm kinda scared," and he replied, "I know." That was the beginning of my new life.
We then started the process of what to do and treatment options. We met with a wonderful surgeon at Kaiser Oakland, Dr Deepak Gurushanthiaia who, if he was not a worldly man and of deep erudition, you would think he was a 12-year-old Dude. It turns out I was in the best hands. The Oakland facility is a teaching hospital, so with his team of Residents there to train with the best, on January 15 I underwent a 5.5 hour procedure to 1) remove the gross disease from my neck, and 2) to do random biopsies of my mucosa to try and find the primary tumor.
Objective 1 went as well as can be. They removed about 50 nodes from my neck and 7 had disease. The good news is that there was no adhesion to any other structure and that there was focal extracapsular extension in a couple. This microscopic outgrowth of tumor from the lymph capsule meant I was headed for chemo and radiation.
Objective 2 was a failure. Either the primary is microscopic or is gone. Either way radiation and chemo are what will be done. The problem with not finding the primary is that the target volume must increase and my entire mucosa will get, in the parlance of our times, "cooked". This will suck. A lot.
But as our hero in Galaxy Quest says "Never give up, never surrender"! That is now our motto.